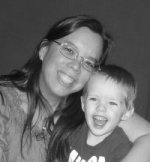 Tanya Chang has always believed in elves, wood nymphs and the goodness of dragons. She has dabbled in creative writing for almost as long as she can remember, journaling about the people and events around her, and bringing fictional characters to life through poetry and fiction. The Littlest Knight is her first children's story. Her first formal writing credit was as a contributing author for Orpheus Musical Theatre Society: The First 100 Years.

Tanya works full-time as an IT support professional, but her spare time is devoted to her family and the performing arts. She can often be seen performing in concerts with the Nepean Concert Band or on-stage with the Orpheus Musical Theatre Society.

Tanya lives in Ottawa, Ontario with her husband Mark and their son Cole.
Darren Bird secretly wished to be a knight in shining armour when he was a wee little lad. He learned, though, that the pen (and pencil) is far mightier than the sword.

Embracing visual arts as a career has been an exciting adventure, one that has led Darren to inspire and entertain others with his various artistic outlets. From a humble beginning of drawing little cartoon characters in the margins of his school notes, he has created content for a myriad of media. Each of his artistic adventures has added to his outlook on life and his bag of tricks, helping to build the foundation for a home for his imagination. He lives in Ottawa, Ontario with his wife Shawna.

http://huetwoart.com
http://huetwo.blogspot.ca